Checkweigher for sanitary napkin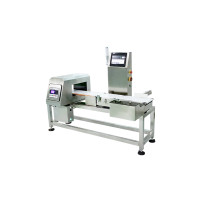 Checkweigher for sanitary napkin
Check the weight of the products one by one on the production line, and sort out qualified products, underweight products, and overweight products to prevent defective products from leaving the factory.
According to the standard weight of the product, sort the excess or insufficient quantity of the product in the box or the packing box, and leave the product that meets the standard quantity.
According to the standard weight value of the product, the abnormal state of the product is sorted, and only good products are shipped.
If it is an assembled product, the standard weight of the product shall be used to measure and confirm whether spare parts and decorations are missing.
The automatic weight sorting scale is connected with other auxiliary devices to increase inspection efficiency and effectively manage production.
Among them, the metal detector can ensure that the metal content of the product meets the requirements of the WHO. Make product quality more secure.


Please tell us the material that need to be packaged or tested: including the material name and length, width and height, the height of the table or other special requirements.
Will reply as soon as possible
Thank you for your inquiry!
Join to chunpeng to get information
Name:

Ryan Lin
Tel:

86-18026177658
Email:
Address:

No. 10, Sanjiang Industrial Zone, Hengli Town, Dongguan City, Guangdong Province, China